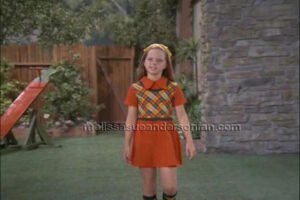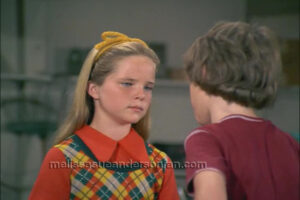 Melissa Sue Anderson loved working on The Brady Bunch episode, "Never Too Young" She played the love interest of Bobby. Here is an excerpt from Melissa's book, The Way I See It.
"Seeing Mike Lookinland again, in "Times of Change," reminds me of the Brady Bunch episode I shot in 1973. The Brady Bunch was my first real "part." I had only acted in television commercials before that. I was ecstatic to be cast as Bobby's first love, Millicent. When the director, Lloyd Schwartz, saw my long blonde hair, he quickly added a dream sequence to the episode that parodied a famous Clairol shampoo commercial from the '7Os, having Mike and me run to each other in slow motion. As two young kids, we were kind of embarrassed to do this, but it really did turn out to be a fun episode. I remember watching it on TV and being shocked by my voice. I knew what I looked like on film, but I had never heard so much of my voice before. I thought: That's what I sound like? Very high-pitched and California. lck. I vowed to work on lowering it right there and then.
I never had a copy of that Brady Bunch, and I really wanted to be able to show it to my children. I ran into Lloyd Schwartz at Theater West in Los Angeles and asked him if he had any thoughts about how I could obtain a copy. He told me that he'd talk to his dad, Sherwood (creator of Brady Bunch and Gilligan's Island), and maybe his dad would give me a copy. How great, I thought. One day, not long after that conversation, my phone rang, and Sherwood Schwartz was calling. He was very nice, and we chatted for quite a while before he said that he didn't have any idea when the season with my episode of the Brady Bunch would be released on video. I think his son, Lloyd, had presumed that Sherwood would just run me off a copy from his master tapes of the show. Oh, well. A few years later, Patrick Loubatiere, a French author and journalist, found a copy and kindly sent it to me. My kids both loved it, by the way, and I now think I was just as cute as a button back then. The voice doesn't seem so bad, either!
(Talking about the episode (Times of Change)
This boy was played by Mike Lookinland, who was my first screen kiss in an episode of The Brady Bunch. It was terrific to work with him again. He was just as nice as he had been years before. I was surprised to see his hair blond and curly: he told me that they always made him dye his hair dark and straighten it for his role as Bobby on The Brady Bunch, so that all of the boys would look like their TV dad, Robert Reed Who knew?"
Compilation of Melissa's scenes from The Brady Bunch
Below is a video clip of Mike Lookinland talking about the episode of The Brady Bunch
with Melissa Sue Anderson from the May 30, 2017 Today Show.
---